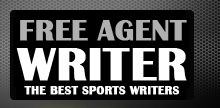 Yankee Addicts
Categories
Featured Sponsors
News published by
September 5, 2010
As all 32 NFL teams cut down to their 53-man roster this weekend, there were some surprises, and the Ravens were no exception. The first surprise to me was they ...
August 31, 2010
The Baltimore Ravens are a team with good balance of youth and experience, and they have a lot of depth.Here's a look at some veteran players (5 years or more) ...
August 29, 2010
If the third preseason game is the dress rehearsal for the season, Ravens fans are going to see a very good show. The Ravens dominated the Giants on both sides ...
August 28, 2010
In the News:  Roger Goodell says the owners want to go to an 18 game season, possibly as soon as 2012 In My Opinion:  Look, I'm a huge football fan, and ...
August 25, 2010
This is the key preseason game for fans to watch, as it's the one where the starters will see the most action and we can expect to see more play ...
August 24, 2010
If I had the chance, I would ask Eli Manning if he really wants to play the Ravens in a preseason game.  Eli suffered a gash that required 12 stitches when ...
August 22, 2010
Saturday night the Ravens easily handled the Redskins in Washington, coming away with a 20-3 victory in their second preseason game. Overall, the game was a bit sloppy on both sides, ...
August 20, 2010
It's preseason week two, which means the Ravens are headed down I95 to visit the Washington Redskins.Predictions on the outcome of a preseason game are like predicting the weather  - ...
August 10, 2010
If Sunday night's game between the Cincinnati Bengals and Dallas Cowboys is any indication, fans of both teams with high hopes heading in to this season are going to be ...
August 7, 2010
One of the bigger moves this off season for the Baltimore Ravens was trading a 3rd round and 4th round pick for prolific Cardinals' receiver Anquan Boldin.  The Ravens signed Boldin ...