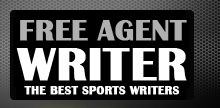 Yankee Addicts
Categories
Featured Sponsors
News published by
December 26, 2010
What late-season Cleveland Browns game won't be right without a little chill? As per NFL Network, the game time temperature for today's till on the shores of Lake Erie is gonna ...
December 22, 2010
With all the talk and rumors of current ESPN analyst and Sandusky native, Jon Gruden being the No. 1 target to possibly succeed the current and embattled head coach, Eric ...
December 15, 2010
After another exciting and snow-filled football weekend, the NFL is about to come down to it's final three games and in these final three games, we will get a chance ...
December 13, 2010
Score Round 3 to the Buffalo Bills in the very forgettable and highly unoffensive three-game trilogy, "Snow, Wind and Rain" that the NFL will gladly beg NFL Films director, Steve ...
December 6, 2010
At least Cleveland was able to salvage a little civic pride Sunday. Just the thought of losing to another Miami team after You-Know-Who crushed the Cavs Thursday night would have ...
November 29, 2010
Forgive me for sounding like a nervous Nancy, but after watching the Cleveland Browns narrowly escape the lowly 1-9 Carolina Panthers with a 24-23 win, Browns fans everywhere may have ...
November 28, 2010
The last-place 1-9 Carolina Panthers come north to cold and frigid Cleveland to take on the Cleveland Browns.For Cleveland they will try to end their two-game losing streak after losing ...
November 27, 2010
With the Browns wide receiver woes such a hot topic here on Bleacher Report, I have decided to delve deeper into the promising talent pool of wide receivers I feel that ...
November 26, 2010
Happy Thanksgiving.   As we all reunite with family over turkey and stuffing along with watching some great football games this weekend, you cannot also be thankful that the Browns, ...
November 13, 2010
The 6-2 New York Jets come to Cleveland Browns Stadium to face the upset-minded and resurgent 3-5 Cleveland Browns in a very intriguing matchup that has more drama that a ...