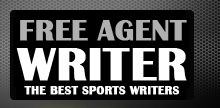 Yankee Addicts
Categories
Featured Sponsors
News published by
July 30, 2010
For those who aren't familiar with law or just don't know, an arbitration hearing is a less complicated and less formal court appearance. Each side gets to present its case ...
March 22, 2010
In the 2007 NFL Draft, the Oakland Raiders selected JaMarcus Russell with the first overall pick. Many hoped that he would be the first piece of the puzzle to turning ...
March 11, 2010
Former Browns starting Quarterback Derek Anderson was released yesterday following two dismal seasons as a part-time starter. In 2008 and 2009 he only started a handful of games, losing most ...