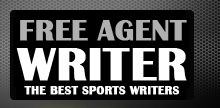 Yankee Addicts
Categories
Featured Sponsors
News published by
September 5, 2015
Every NFL season, there are teams that surprise us all. These teams are oblivious to power rankings, and they laugh in the faces of their critics. Last season, it was the ...
May 7, 2010
This Depth Chart will be updated throughout the off-season and training camp as changes, position moves, and a clearer picture of the "starters" emerge. Head Coach: Josh McDaniels Offensive Coordinator: Mike McCoy Defensive ...
May 1, 2010
Doom . The etymology of which is from the Old English: dóm, meaning a  "judgment, sentence, decree, law" An example would be something like this: These are the dooms which King Æthelberht established ...
April 24, 2010
The second round of the 2010 draft is about to kick off. The St. Louis Rams are next up on the clock and rumors are that the trade offers ...
April 21, 2010
The Broncos top brass certainly have many factors to weigh in the hours leading up to the 2010 NFL draft.  Juggling their draft board, position needs, player values, and an ...
April 14, 2010
Good-bye Brandon.  We loved watching you develop from an unknown 4th round draft pick out of Central Florida into the game's best young wide receiver. 327 receptions, 4,019 yards, 25 touchdowns, ...