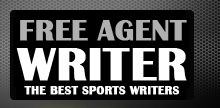 Yankee Addicts
Categories
Featured Sponsors
News published by
March 18, 2014
Slow and steady wins the race. Perhaps that's the Redskins' motto for free agency this offseason? While much of the last couple weeks has been quiet on the Washington front, the ...
May 17, 2013
While I don't necessarily believe he needs to beg to make the roster, I did see more than a decent number of comments a couple weeks ago implying that rookie running back Jawan Jamison ...
April 30, 2013
With their first of two fifth-round picks in last week's draft, the Washington Redskins selected Florida State running back Chris Thompson to complement starter Alfred Morris by way of speed, burst and ...
February 9, 2013
With seven picks in the upcoming NFL draft and plenty of positions to address, the Washington Redskins will head into April with the idea of "value" in mind. Without a pick in the ...
December 23, 2012
After losing nine of their last 10, the Eagles will attempt to play spoiler when they host the red-hot Washington Redskins in Philadelphia today. Kickoff is set for 1:00 PM EST.Despite ...
June 25, 2011
Finally, after more than a decade, the Washington Redskins have turned a new leaf and a culture change is officially in place under the new regime of Mike Shanahan. Before last ...
April 26, 2011
Usually, Redskins fans are excited during the offseason and free agent signings are plentiful. The 2011 offseason is quite the contrary. With a questionable lockout situation and a new front ...
April 21, 2011
In today's NFL game, the use of a two-running back system has become the norm. Whether teams execute their offense with immense tight end-like runners or quick-moving scat backs, it's easy to ...
April 8, 2011
As Mike Shanahan and the Washington Redskins continue their attempt to work a deal involving quarterback Donovan McNabb, the chances of trading him, rather than releasing him, might be taking ...
January 21, 2011
On Thursday, April 28th, the Washington Redskins will take part in one of the most significant NFL Drafts in the team's not-so-rich history. ( Check out my Mock Draft )Since taking ownership ...