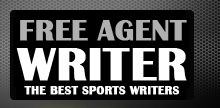 Yankee Addicts
Categories
Featured Sponsors
News published by
February 14, 2011
The Madden Curse plagues NFL stars each year. It is an honor to be asked to be on the cover, but should players turn down the opportunity in fear of ...
January 29, 2011
According to reports coming from NFL Network's Mike Mayock, Collin Kaepernick is sprinting up draft boards due to his play at the Senior Bowl. When asked what it is like ...
January 29, 2011
This matchup should be an epic showdown. Two of the NFL's greatest franchises will be going head to head on February 6th. Each team has playmakers on both sides of ...
January 18, 2011
Year in and year out, fantasy experts preach that taking an elite wide receiver in the first round will pave your path to fantasy glory.In a pass-first league, you would ...
January 16, 2011
Defense still wins championships.   Sure, Aaron Rodgers scored four touchdowns today and Big Ben and the Steelers put up 31 points, but without both teams' stingy defenses, it could have ...
January 15, 2011
Fantasy football has a way of pitting us in a constant struggle.  Do I root for my team even though my fantasy stud is going up against him? Does that ...
January 9, 2011
The Seattle Seahawks today dismantled the defending Super Bowl champs.  They beat New Orleans at its own game. It wasn't Leon Washington providing a spark or Earl Thomas picking off a ...