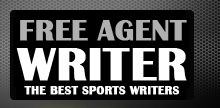 Yankee Addicts
Categories
Featured Sponsors
News published by
September 16, 2010
(Week 1 against the spread record: 5-2)After a near seven long months, football season finally came back to us and it did not disappoint.Week one had some absolutely amazing games ...
August 30, 2010
The Oakland Raiders have been the laughingstock of the NFL for far too long.While many other teams continue the struggle to find their way back to the light of playoff ...
July 22, 2010
Good news, Titans fans!   Chris Johnson will report to training camp on time!   That's right, folks. The 2009 NFL Offensive Player of the Year has finally come to terms with Titans owner ...
July 12, 2010
His Superbowl and Sears commercials are hilarious. He is the ideal family man. He makes the NFL better. He is 40 year old future Hall of Fame quarterback Brett Favre. Many thought they could ...
July 12, 2010
As the Tennessee Titans enter training camp there will be those who already know they have a job. Some others aren't quite as sure. Training camp might be the deciding factor in ...
July 8, 2010
There are definitely more than a few questions surrounding the Tennessee Titans this season.   Can Chris Johnson repeat a 2,000 yard season? Will Vince Young be a consistent leader at QB? ...
June 30, 2010
Let's face it - Vince Young is almost guaranteed a suspension. Roger Goodell takes his good conduct policy seriously and whether it be one game or four games, Vince Young and ...
May 22, 2010
Ah, holdouts. You gotta love 'em. Well unless you are a Titans fan. Just in case you haven't heard, Tennessee Titans star running back Chris Johnson is no where to be found in ...
May 5, 2010
With the draft over and the first OTA's underway, most team rosters are set and ready to get to their summer camps.   Sure, there are still a few free agents out ...
April 23, 2010
With the 16th pick in the 2010 NFL Draft, the Tennessee Titans select Derrick Morgan, defensive end, Georgia Tech.   And boy, is he just what the doctor ordered.   After the selection, Tennessee ...