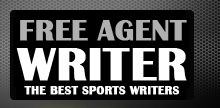 Yankee Addicts
Categories
Featured Sponsors
News published by
January 17, 2017
Just how far can the Green Bay Packers take this run? The Packers looked like anything but a team that was capable of competing in the NFC Championship Game when they dropped ...
January 16, 2017
There's little argument that the NFL is a quarterback's league. If you look at the four quarterbacks remaining in the postseason tournament, it's never been more obvious that that point ...
January 16, 2017
After six one-sided postseason games dominated by the home teams, the Green Bay Packers and Pittsburgh Steelers both won thrilling divisional playoff games Sunday on the road. Those victories have set ...
January 16, 2017
The dream ended in the most painful of fashions for the Dallas Cowboys Sunday, as they were drummed out of the playoffs when Green Bay place-kicker Mason Crosby connected on ...
January 15, 2017
The Atlanta Falcons came into the divisional playoff round as the No. 2 seed in the NFC playoffs, but there were many questions about head coach Dan Quinn's team. Despite their ...
January 13, 2017
The Atlanta Falcons have had an impressive season, as they won the NFC South with a 11-5 record and earned the No. 2 seed in the NFC playoff structure. After a ...
January 12, 2017
The Pittsburgh Steelers are on an eight-game roll and in excellent shape as they head to Arrowhead Stadium on Sunday afternoon for their AFC divisional-round matchup against the Kansas City ...
January 11, 2017
Eight teams are still playing for a chance to go to the Super Bowl and win it, which means 24 other NFL teams are making plans so they can do ...
January 11, 2017
The Dallas Cowboys answered nearly every question put before them during the regular season as their gold dust twins Dak Prescott and Ezekiel Elliott led them to the NFC East ...
January 10, 2017
The New England Patriots earned their ideal postseason scenario when they defeated the Miami Dolphins on the final day of the regular season and clinched home-field advantage throughout the AFC ...