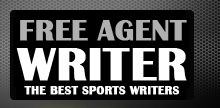 Yankee Addicts
Categories
Featured Sponsors
News published by
April 18, 2012
The San Francisco 49ers had the second-easiest schedule by record in the 2011 season. Only New England had it easier. The Niners capitalized with a 13-3 regular-season record and a ...
January 15, 2012
Well, we can now call Alex by his new name, "Joe."The sizzle of the 49ers' victory hangs in the air like so much cordite after an extraordinary fireworks display. The ...
December 25, 2011
Special teams had been so much of the 49ers' success. Then Heath Farwell ended that feeling with one block of an Andy Lee punt. And just like that, a game ...
April 22, 2011
Since 2001, the San Francisco 49ers have selected 13 players in the first round, of which seven are still with the team. That includes outside linebacker Manny Lawson—once the NFL ...
April 13, 2011
In his first moments as coach of the San Francisco 49ers, Jim Harbaugh talked about the ideals and standards set by Bill Walsh. Walsh took over as head coach in ...
April 1, 2011
Looking back to some of the great San Francisco 49ers who played critical roles in their Super Bowl campaigns, it is surprising to find that so many were middle- to ...
March 30, 2011
Bill Cunerty remembers seeing Alex Smith 12 years ago at Helix High in San Diego. The reaction was common among those who know that a smart, good head makes plays. ...
March 28, 2011
Bill Cunerty is a quarterback whisperer. Working with Athletes' Performance, which is based in Phoenix but has workout centers around the country, Cunerty and others train top-flight college prospects for ...
March 26, 2011
The goal of every draft is to get appropriate value out of every player. As they say to players who feel they have been overlooked in the draft, it's not ...
March 22, 2011
He's out there, waiting. He's said no way he's going to return to his job, foregoing millions in the process, even though his employer has said there's no way he ...