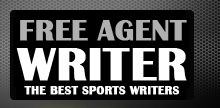 Yankee Addicts
Categories
Featured Sponsors
News published by
December 31, 2016
There are a handful of knowns heading into Week 17, the last of the 2016 NFL regular season. The AFC North champion Pittsburgh Steelers are locked into the No. 3 seed. ...
December 25, 2016
How was that for a Christmas Eve of football? The Arizona Cardinals and Seattle Seahawks duked it out in a 34-31 thriller. The Atlanta Falcons steamrolled the Carolina Panthers 33-16. The ...
December 21, 2016
The NFL announced its 2016 Pro Bowl rosters on Tuesday, reminding everyone just how close we are to the end of the regular season. No team is completely worry-free. Even the ...
December 17, 2016
Welcome to the fantasy football semifinals. From first-round busts (we don't want any problems, Todd Gurley) to late-round steals (same goes for you, LeGarrette Blount), it's been a wild ride—as it ...
December 5, 2016
The Dallas Cowboys made the playoffs on Sunday. With four weeks to go in the regular season, the 11-1 Cowboys became the first NFL team to cement their spot in the ...
November 30, 2016
You did excessive extensive amounts of research over the summer. You trusted your gut at the draft, for better or worse. You've made key trades and pickups along the way. Everything ...
November 23, 2016
If your fantasy football team is still alive by Thanksgiving, you're in good shape. Some teams are already out, relegated to playing spoiler. But most teams—even those hovering around .500—are making ...
November 16, 2016
Some fantasy football owners are in cruise control. Already set for the playoffs at 8-2 or 9-1, Week 11 brings little pressure. But to most players, this is crunch time. Here are ...
November 9, 2016
Everything matters now. Bye weeks. Matchups. Trends. Your gut. All of it. Week 10 puts four star-studded teams out of action, so winning your fantasy football matchup will take more than setting and ...
November 2, 2016
This week brings a biblical amount of byes for fantasy football. Forget about using David Johnson, A.J. Green, Tom Brady, Rob Gronkowski, Jordan Reed, Lamar Miller, DeAndre Hopkins, Jordan Howard or ...