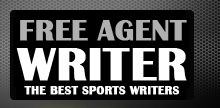 Yankee Addicts
Categories
Featured Sponsors
News published by
January 10, 2017
The process leading up to the 2017 NFL draft should be one of the most intriguing in recent memory. That's mostly because there's still so much room for movement within ...
January 7, 2017
The fate of Houston Texans head coach Bill O'Brien remains up in the air as the team prepares to face the Oakland Raiders in the first round of the NFL ...
January 6, 2017
The Buffalo Bills are reportedly "planning to move on" from starting quarterback Tyrod Taylor during the offseason. Continue for updates. Bills Expected to Release Taylor If Healthy Friday, Jan. 6 Chris Mortensen and Adam ...
January 4, 2017
Ohio State linebacker Raekwon McMillan announced Wednesday he'll skip his senior season with the Buckeyes to enter the 2017 NFL draft. Bleacher Report's Barrett Sallee passed along word of the decision. ...
January 4, 2017
Chip Kelly, the former head coach of the San Francisco 49ers, Philadelphia Eagles and the University of Oregon, said Tuesday he'd consider any job offers that come his way during ...
January 4, 2017
New York Jets wide receiver Brandon Marshall stated Tuesday the team's struggles early in the 2016 campaign led to "a feeling of shock" and his response to the problems, which ...
January 4, 2017
The most spirited draft-related NFL discussion in the coming months is likely to surround whether to pick based on value or quarterback need. Just about every team selecting near the ...
January 3, 2017
Houston Texans head coach Bill O'Brien announced Tuesday that Brock Osweiler will start the team's playoff game against the Oakland Raiders on Saturday, even if Tom Savage is available.  The Texans ...
January 3, 2017
The Miami Dolphins have reportedly already made the decision to release high-priced defensive end Mario Williams during the upcoming offseason.  Continue for updates. Dolphins Expected To Waive Williams Tuesday, Jan. 3 Armando Salguero of ...
January 1, 2017
The NFL free-agent market is usually tame compared to its counterparts in the other major sports leagues in the United States. A combination of factors, led by the franchise tag and salary-cap ...