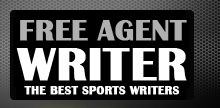 Yankee Addicts
Categories
Featured Sponsors
News published by
March 5, 2011
Earlier this week, it was rumored that right guard Cooper Carlisle was not expected to return with the Oakland Raiders next season. After watching the 34-year-old get pushed back constantly, ...
February 27, 2011
With the draft only a few months away and the combine already taking place, it's time for me to roll out the first edition of my mock draft.Keep in mind ...
January 29, 2011
In football, it seems like the most glorified position is running back. Despite being easily replaced, once a team finds a good running back, they will soon become one of ...
May 23, 2010
After a busy offseason, the Oakland Raiders have begun their project back to the top of the league. Amongst many of the transactions, the Raiders have added more and more players ...
May 15, 2010
Al Davis was born on July 4, 1929. In 1963, he was assigned the head coaching and general manager job of the Oakland Raiders. He became the commissioner of the ...
April 9, 2010
Dennis Dixon was born on Jan. 11th, 1985 in San Leandro, a small city just minutes away from Oakland. Growing up in the city, Dixon attended San Leandro High School, ...
April 5, 2010
The Raider Nation has been torn this off-season over the quarterback position. On one side, fans root for the former number one overall pick JaMarcus Russell. From LSU, Russell ...
April 5, 2010
After a long period of rumors, the Philadelphia Eagles have traded Donovan McNabb away to the Washington Redskins. Of all teams, the Redskins were the ones that no one expected to ...
April 4, 2010
The Oakland Raiders have many needs, that's the obvious. Some of those needs are left tackle, right guard, and center. Some of the recent mock drafts that websites put out say ...
March 25, 2010
In 2004, the San Francisco 49ers and Philadelphia Eagles reached an agreement that sent Terrell Owens to play with the Eagles. In his first season, Owens played in 14 games, ...