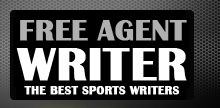 Yankee Addicts
Categories
Featured Sponsors
News published by
October 3, 2012
As wild and crazy as Week 3 was, Week 4 brought something I'm not sure the sports world has ever seen: standing ovations for officials at nearly every stadium. On ...
September 26, 2012
Has there been a more riveting week of NFL football then we had in Week 3?  Not in quite some time. Six games were decided by three points or less, ...
February 7, 2011
I hope you enjoyed the 2010 NFL season, because there is a decent possibility that will be the last football you watch for quite some time. Hopefully that isn't the ...
November 3, 2010
The Tennessee Titans were the only team to submit a claim for the recently cut Randy Moss.  The addition of Moss makes the Titans an immediate threat in the AFC.  ...
October 27, 2010
It was not a good week to be a quarterback in the NFL. The San Francisco 49ers and Dallas Cowboys both lost their signal callers in Week 7, not to mention ...
October 20, 2010
Week 6 had close games all around, with eight games being decided by four points or less.  The 49ers got their first win and the Vikings may have salvaged their season ...
October 14, 2010
The big news heading into Week 5 was the addition of WR Randy Moss to the Minnesota Vikings.  The Vikings were held scoreless in the first half, but Brett Favre ...
September 29, 2010
The top-three teams from last-week's rankings all went down, causing a major shake-up this week.  Three new teams enter the top five for the first time this season and some ...
September 22, 2010
Tragic news about the apparent suicide by Broncos second-year wideout Kenny McKinley was found out this week. He's the third Broncos player in four years to lose his life. The Broncos ...
September 14, 2010
It's official! The NFL has returned and I for one think we should have a double-header on Monday Night Football ever week.  Anyways, the first week of the season showed ...