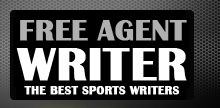 Yankee Addicts
Categories
Featured Sponsors
News published by
January 7, 2017
Twenty of the 32 first-round selections in the 2017 NFL draft have been set. Another four will be put into place this weekend, with Saturday and Sunday's wild-card games eradicating ...
January 6, 2017
A last-second change of heart saved Chuck Pagano's job after the 2015 season, and it appears he's done it again. According to Alex Marvez of SportingNews.com, the Colts are expected to ...
January 2, 2017
For the third time in as many years, Jed York has to hire a new head football coach. The San Francisco 49ers owner did not mince words Monday regarding his ...
January 2, 2017
Buffalo Bills wide receiver Sammy Watkins will undergo foot surgery this week, according to Tim Graham of the Buffalo News. Mike Rodak of ESPN.com reported Watkins was considering not having the surgery ...
January 2, 2017
The San Francisco 49ers announced the firing of general manager Trent Baalke on Sunday and have begun compiling an interview list for their vacant GM position. Continue for updates. Caserio, Ballard on 49ers' ...
January 2, 2017
Less than 24 hours after firing head coach Chip Kelly after one season, the San Francisco 49ers have begun to compile a list of potential replacements. Continue for updates. 49ers Request McDaniels Interview Monday, Jan. 2  ESPN's Adam Schefter and Matt Barrows of the Sacramento Bee have ...
January 1, 2017
The San Diego Chargers, potentially staring at a top-five pick for the second straight season, are reportedly ready to part ways with head coach Mike McCoy. Continue for updates. McCoy Out in San Diego? Sunday, ...
January 1, 2017
Denver Broncos head coach Gary Kubiak reportedly plans to step down following Sunday's game against the Oakland Raiders, citing health concerns. Continue for updates. Kubiak Reportedly Planning to Step Down Sunday, Jan. 1  ESPN.com's Adam Schefter reported the news. Kubiak's ...
December 30, 2016
Michael Bennett's wish for a new contract has been granted. The Seattle Seahawks and their star defensive lineman agreed to a three-year extension Friday, according to The Huffington Post's Jordan ...
December 30, 2016
The 2017 NFL draft is four months away. We haven't even begun sniffing the crazy season, where 40-yard-dash times and answers to abstract psychological questions become as important at what ...