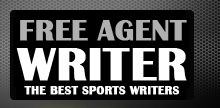 Yankee Addicts
Categories
Featured Sponsors
News published by
March 20, 2016
While the big-money player acquisitions dominate the headlines of NFL free agency, teams that re-sign their own free agents often represent the best moves made early in the new league.  I ...
March 16, 2016
Not all free-agent signings are created equal in the NFL.  While there is inherent risk in every deal made on the open market, some agreements are more or less treacherous than ...
March 14, 2016
It's fairly easy to look at the money spent and players acquired and find the obvious "winners" of NFL free agency.  The New York Giants handed out over $200 million to ...
March 13, 2016
There isn't a riskier way of player acquisition in the NFL than free agency, when teams spend millions and millions on players that other teams let go. That isn't to say ...
March 11, 2016
Unsurprisingly, the first two days of NFL free agency have produced a number of surprising moves and developments.  The massive amount of spending money available has allowed teams to be flexible ...
March 8, 2016
Free-agent quarterback Ryan Fitzpatrick is now expected to get to the open market without a new deal from the New York Jets.  According to Ian Rapoport of NFL Network, Fitzpatrick and the ...
March 4, 2016
An already shallow pool of available quarterbacks lost Kirk Cousins and Sam Bradford this week, making it more and more likely Brock Osweiler and Ryan Fitzpatrick will follow suit and ...
February 29, 2016
The deadline for NFL teams to apply the franchise tag is Tuesday, March 1.  While a number of notable players are expected to receive the tag, a handful of question marks ...
February 26, 2016
A gathering spot for top decision-makers from all 32 teams and a horde of media members, the NFL Scouting Combine is the perfect setting for a treasure cove of information ...
February 24, 2016
A 24-year-old running back with untapped potential and a career average carry of 4.6 yards, Lamar Miller has the highest ceiling of any offensive player entering free agency.  Spending on top ...