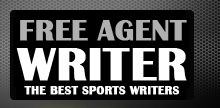 Yankee Addicts
Categories
Featured Sponsors
December 30, 2010 · Brian DiTullio · Jump to comments


Pro Bowl Roster: Which Snubs Sneak In With Injuries To Starters
The Pro Bowl rosters are set for now, but every year starters pull out because of injuries, and a bunch of the "snubbed" players end up playing in the game anyway.
So players like Aaron Rodgers, Peyton Hillis, Chris Johnson, and Larry Fitzgerald may be making the trip to Hawaii after all.
Hillis and Johnson have the best chance because Maurice Jones-Drew is battling a knee injury and may just decide he needs the rest more than the start.
For quarterbacks and wide receivers, it's a crapshoot on who feels like doing what based on a variety of factors, including participation in the Super Bowl.
There are players who get snubbed in the initial balloting every year, and most of them end up getting into the game anyway because the NFL is a brutal game and some of the guys who get voted in just end up need the time off to rest and recover for the next season.
For a look at this week's ...

Read Complete Article at Bleacher Report - NFL
Article is property of BleacherReport.com