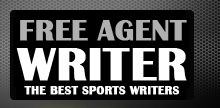 There are about a dozen players in the National Football League who could retire now and earn enshrinement to the Pro Football Hall of Fame in their first year of eligibility.
Peyton Manning, Tom Brady and Drew Brees are three of the greatest quarterbacks in league history. Combined, they've thrown for more than 1,000 career touchdown passes, won seven Most Valuable Player awards and led their respective teams to five Super Bowl titles. Anything they do in the next few years will only add to their already incredible legacies.
Other players around the NFL who are a lock to reach the Hall of Fame include Adrian Peterson, Calvin Johnson and Champ Bailey.
But a lot of veterans nearing the end of their careers are making a final push for the Hall of Fame. For some, it's a matter of reaching a specific milestone, like 1,000 career catches or 150 sacks. For others, it's just a matter of turning in a few more seasons at their typically productive level.
Th...
Read Complete Article at
Bleacher Report - NFL
Article is property of BleacherReport.com

Millions of kids grow up with dreams of one day joining the NFL. New York Giants head groundskeeper Rob Davis is one of the lucky few to actualize that dream, even ...
Let's face it: Having a game-changing wide receiver on your NFL fantasy football team might be more fun than anything else in the competition. The overall numbers are still slanted toward ...
There may not be a better 1-2 combination at the running back position in recent years than Jonathan Stewart and DeAngelo Williams of the Carolina Panthers. Stewart and Williams were the ...
For just $85 per person, you and at least seven friends can surround yourself with the NFL experience while you draft your fantasy team in the Kansas City Chiefs' Arrowhead ...
After spending the last 43 years at Candlestick Park, the San Francisco 49ers have officially moved into the brand new Levi's Stadium in Santa Clara, California. The team hosted a ribbon-cutting ...
Run a search on Google or any major website that covers the National Football League, and you're bound to find a list of projected breakout players for the upcoming season. ...
NFL training camps have changed over the years, becoming a player-friendly experience...at least that's what the rules in the latest collective bargaining agreement would lead you to believe. Still, there is ...
Based on what you see in the comment sections right here at Bleacher Report as well as on forums and Reddit, there does seem to be a strong belief among ...
Over the next week, every NFL team will have reported to training camp, meaning preseason and the regular season are right around the corner. And before starting lineups for Week ...