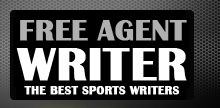 Fact: This season—Andrew Luck's first two games: 493 Yds, 3 TD, 5 Int. Matt Hasselbeck's first two games: 495 Yds, 5 TD, 0 Int.
Bleacher Report will be bringing sports fans the most interesting and engaging Cold Hard Fact of the day, presented by Coors Light. Source: SportsCenter
Read more NFL news on BleacherReport.com
...
Read Complete Article at
Bleacher Report - NFL
Article is property of BleacherReport.com

Even though we're reached the quarter pole of the NFL season, the fantasy football landscape could use some more stability. At quarterback, who predicted Andrew Luck would be No. 23 in ...
Exploitation is a key component of fantasy football rankings and projections. Normally a word with negative connotations, in the realm of fake football it simply means jumping on top of favorable ...
When the team walked off the field following a first-round playoff defeat in January 2014, the Philadelphia Eagles knew they needed to get better. At the time, they likely didn't ...
I first met Carson Palmer 13 years ago. He wore khaki pants and a white button-down shirt with pinstripes. He was fresh-faced and clean-shaven. In his eyes was the glint ...
You may hate New England Patriots coach Bill Belichick. You may think he cheats and is arrogant and is a jerk. That is all debatable. What isn't is that Belichick is ...
No matter your strategy in daily fantasy football, you need to pick the right players in order to be successful. As long as you know where to look, though, you ...
The hottest NFL player doesn't always make the best daily fantasy play. Scoring three touchdowns in back-to-back weeks, Atlanta Falcons running back Devonta Freeman has led several DraftKings contestants to paydays over ...
The NFL landscape is ever-evolving on a weekly basis. How your team is viewed is directly tied to the previous week. That puts a big emphasis on what's at stake ...
The Cleveland Browns went into the 2015 season hoping to get more from their running backs, not just as ball-carriers but also as receivers. And though this plan got off ...