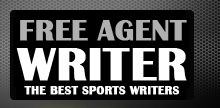 The nature of the NFL draft means that failing to extract any value out of a first-round pick doesn't guarantee a team will struggle in the future. But it certainly doesn't help.
In the NBA draft, it's almost impossible to build a winning franchise by consistently missing with first-rounders—just look at the Los Angeles Clippers during the Donald Sterling era. That's largely because outside of the first 20 to 30 picks, it's rare to find players who have the potential to be an All-Star.
That's far from the case with the NFL draft. Not only do teams have more chances to get it right, but late-round gems also emerge every year. Somebody is always quick to point out that Tom Brady was a sixth-round draft pick.
Perhaps the three teams below would be able to recover from drafting a bust in the first round, but they're in a position where doing so could bring serious ramifications.
Cleveland Browns
For now, the Cleveland Browns are the only team with...
Read Complete Article at
Bleacher Report - NFL
Article is property of BleacherReport.com

Dallas Cowboys Executive Vice President Stephen Jones confirmed that the team plans on applying the franchise tag to All-Pro wideout Dez Bryant, thus keeping him on the roster through 2015, ...
The Atlanta Falcons cut Steven Jackson, Harry Douglas, Justin Blalock and Jonathan Massaquoi on Thursday and Friday without a clear plan on the team to replace them. Over the past ...
 Shane Ray, the star defensive end from the University of Missouri, is considered to be one of the top players taken in the 2015 NFL Draft. He's got a lot ...
Former Washington Huskies football star Marcus Peters is arguably the most talented cornerback prospect entering the 2015 NFL draft. As April 30's first round draws closer, information is surfacing with ...
Ray Rice is speaking publicly for just the second time since being suspended by the NFL, and subsequently reinstated following an appeal, and being released by the Baltimore Ravens.   In ...
The strange, ongoing saga involving the succession plan for the two New Orleans professional sports franchises (the NFL's Saints and NBA's Pelicans) owned by Tom Benson has had another layer ...
For those football fans yearning for more NFL media fodder, just sit tight a little while longer. March madness isn't just for college basketball anymore.For those enjoying the brief lull ...
Every now and then, a team goes the extra mile to make a fan happy, and we're reminded what sports fandom is all about.Case in point: Michael Monorock, a young ...
The San Francisco 49ers are reportedly deciding what to do with wide receiver Stevie Johnson, as the team debates whether they should offer the wideout a pay cut, or simply ...