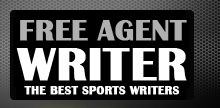 Cullen Jenkins is headed to his third NFC East franchise. The veteran defensive lineman agreed to a one-year deal with Washington on Monday, where he'll attempt to bring run-stopping depth to its front seven.
Ian Rapoport of NFL Network and Mike Jones of the Washington Post reported the news.
Jenkins, 35, spent the last three seasons with the New York Giants. He recorded 26 tackles and three sacks while appearing in all 16 games. Heading into his 13th NFL season, Jenkins previously played seven years with the Green Bay Packers and two with the Philadelphia Eagles.
More to follow.
Follow Tyler Conway (@jtylerconway) on Twitter.
Read more NFL news on BleacherReport.com
...
Read Complete Article at
Bleacher Report - NFL
Article is property of BleacherReport.com

Heading into the 2016 NFL preseason, Mark Sanchez seemed to be the front-runner for the Denver Broncos' starting quarterback job. Trevor Siemian had other plans.  Broncos head coach Gary Kubiak named the ...
San Francisco 49ers quarterback Colin Kaepernick and a host of others headline the NFL cuts speculation as the preseason winds down.  Teams have to trim the fat off rosters by Tuesday, ...
The NFL season kicks off in less than two weeks, so it's crunch time for fantasy football drafts. There are countless lists and strategies out there for you to pour over ...
Week 3 of the NFL preseason is now in the books. However, teams will be staying active this week as they continue to trim their rosters down heading into the ...
Four months after signing with the New England Patriots, veteran defensive tackle Terrance Knighton has been cut. Knighton confirmed the move on Twitter on Monday: ESPN.com's Mike Reiss provided a statement from ...
As part of the preseason roster trimming, the Cleveland Browns cut linebacker Paul Kruger on Monday. Mary Kay Cabot of the Plain Dealer first reported Monday that Kruger would be part of the Browns' cuts ...
Well, we've gotten the best look at each NFL team we're going to get before Week 1. Last week's "dress rehearsals" featured the most extensive playing time starters will see this ...
Meaningful football is still over a week away. The third preseason game is supposed to be the closest thing we get to that, but coaches use it in various ways. ...
After months of waiting, we've finally reached the doorstep of the 2016 NFL season. The third week of "dress rehearsal" preseason games is now in the books, and we're just ...