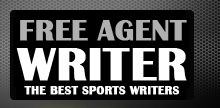 Yankee Addicts
Categories
Featured Sponsors
September 2013 Archive
September 29, 2013
For a number of NFL teams, the start of the 2013 season has not gone according to plan. Fortunately, there is plenty of time to turn things around. Six squads started ...
September 29, 2013
In the NFL, virtually any team is capable of coming away with a win on any given Sunday. A few teams will prove this concept with big victories in Week ...
September 28, 2013
The Cleveland Browns have been one of the most pleasant surprises of the 2013 fantasy football season. Despite trading running back Trent Richardson, the Browns have produced two of the ...
September 28, 2013
After two weeks of mediocre and undramatic football, Monday Night Football on ESPN will get a lot more interesting in a hurry.  This week, two undefeated teams will feature on the primetime broadcast ...
September 28, 2013
Changes are coming for the New York Giants. They have to be, right? After all, this team is off to its worst start since 1996, and clearly what they have been ...
September 28, 2013
New England Patriots tight end Rob Gronkowski has an awfully bright future ahead of him. Therefore, he is smart to remain patient on the sideline while the Pats keep winning. According ...
September 28, 2013
The NFL regular season is already entering Week 4, and the power rankings heading into Sunday's games continue to shift as the contenders separate themselves from the pretenders. Before the majority ...
September 28, 2013
Running backs are usually boom or bust players in fantasy football, and you likely need help determining whether to start or sit a number of risky RBs in Week 4. Guys ...
September 28, 2013
Believing that the 0-3 Pittsburgh Steelers can make the playoffs in 2013 might be akin to believing in Santa Claus, the Easter Bunny and unicorns. Only three teams have made the ...
September 28, 2013
The St. Louis Rams lost their third game of the season on Thursday night against the San Francisco 49ers, bringing their season record to 1-3. Toward the end of the game, ...