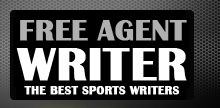 Yankee Addicts
Categories
Featured Sponsors
December 2014 Archive
December 31, 2014
The uniforms, practice jerseys and podiums have been put away by the New York Giants, who now must begin the hardest part of the offseason: player evaluation.  The Giants have 19 ...
December 31, 2014
A collective silence fell upon Heinz Field as the MVP of the Pittsburgh Steelers fell to the ground in pain. With so much promise heading into the playoffs, the potential ...
December 31, 2014
With yet another losing season in the tank, the Buccaneers are again poised to be big players in free agency. If the Bucs' disappointing 2014 season proved anything, it showed that ...
December 31, 2014
How can you fix a team with as many problems as the Washington Redskins have heading into the offseason? The first step is identifying the problems followed by taking the ...
December 31, 2014
When the Detroit Lions visit Arlington to face off with the Dallas Cowboys, one of the keys to the elusive playoff victory is being able to run the football.  I know, ...
December 31, 2014
In order to build a winning franchise in the NFL, a lot of variables have to be in place. From ownership down to the players, a sustainable model usually features ...
December 30, 2014
Ted Cottrell has given the Detroit Lions a fighting chance against the Dallas Cowboys in the NFC Wild Card Round.  The NFL's appeals officer overturned the one-game suspension levied on Lions ...
December 30, 2014
We'll cut right to the chase: The Minnesota Vikings aren't good enough to be a playoff team with their current roster not getting any better. So how do they fix ...
December 30, 2014
There's a strange phenomenon in the NFL, and it can only be explained by counting dollars. The many dollars that belong to St. Louis Rams head coach Jeff Fisher. Every year, ...
December 30, 2014
On Monday, it looked as if Ndamukong Suh may had played his last game in a Detroit Lions uniform. By Tuesday afternoon, he was gearing up for the Lions' Wild ...