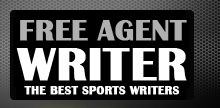 Yankee Addicts
Categories
Featured Sponsors
March 2015 Archive
March 31, 2015
Former Florida State quarterback Jameis Winston has no shortage of confidence ahead of the 2015 NFL draft. After completing his pro day in Tallahassee, Winston declared himself the top prospect when ...
March 31, 2015
The quarterback duo of Jameis Winston and Marcus Mariota may be hogging all the headline space this spring, but a quick glance at the overall prospect rankings at CBS Sports ...
March 31, 2015
A little more than one month after he made a name for himself at the NFL Scouting Combine with a record-breaking 12'3" broad jump, Connecticut cornerback Byron Jones continued his ...
March 31, 2015
A mere two years ago, Wes Welker was coming off a 118-catch, 1,354-yard Pro Bowl season with the New England Patriots. He's led the NFL in receptions on three separate ...
March 31, 2015
There are several exciting wide receivers in the 2015 NFL draft.But who is the best of the draft class? And which one will have the most storied NFL career?Watch as ...
March 31, 2015
The men from the boys... Athletic pursuits like NFL football often bring out the hackneyed maxims from fans and media. Whether it's wartime comparisons like calling players "soldiers" or just empty ...
March 31, 2015
Former NFL Pro Bowler Dwight Freeney has filed a lawsuit against Bank of America, claiming the bank defrauded him of more than $20 million.   ESPN's Adam Schefter provided the press ...
March 31, 2015
The NFL is the king of the sports world in America, and it is big news even when it makes a shift in its offseason calendar, as it did Tuesday. Mike ...
March 31, 2015
The Jacksonville Jaguars were aggressive in free agency and will try to improve even more in the 2015 NFL draft.Who could the Jaguars target in the draft? What is a ...
March 31, 2015
A year ago, in the movie Draft Day, faux Cleveland Browns general manager Sonny Weaver Jr.—played by the stone-faced Kevin Costner—spent nearly half the movie trying to figure out what ...