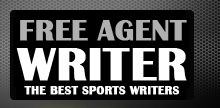 Yankee Addicts
Categories
Featured Sponsors
September 2011 Archive
September 25, 2011
No team has owned another over the past decade quite like the New England Patriots over the Buffalo Bills. The Bills haven't been victorious against New England since Week 1 ...
September 25, 2011
Much of the focus during the start of the 2011 NFL season has been on the sudden increase in the passing attacks across the league.However, running back still remains the ...
September 25, 2011
Upon learning that his streak of starting 227 consecutive games would end due to his neck injury, Indianapolis Colts quarterback Peyton Manning was admittedly in terrible spirits, but according to ...
September 25, 2011
The Raiders are an enigma.The black and white. The skull and crossbones. Al Davis!  Come to our house and fear us. Championship banners and Super Bowl rings.Oh! The Jets have ...
September 25, 2011
This Sunday at Soldier Field marks just another chapter in the long storied rivalry of the Chicago Bears and Green Bay Packers. The league's oldest rivalry will be renewed once ...
September 25, 2011
The Detroit Lions (2-0) and Minnesota Vikings (0-2) are set to open up their NFC North division schedules this year, and Las Vegas sports books will be watching with great ...
September 25, 2011
 Bill Parcells: quote of the week"It's a team sport. You're singing in the choir; you're not a soloist."Don't you just love the Tuna? But anyway you slice it, all eyes ...
September 25, 2011
No Peyton Manning, no problem for the Pittsburgh Steelers!  Right?In a series that Pittsburgh has dominated, the Steelers return to action against the Indianapolis Colts. This Sunday's game marks the first ...
September 25, 2011
Sunday marks the third week of the NFL season and is exactly three months from Christmas Day.  But for the Buffalo Bills and their fans, it seems like holiday cheer ...
September 25, 2011
Entering the 2011 season, the most likely scenario for Carolina's offense was that they would rely heavily on their rushing attack to ease the NFL transition for their rookie signal-caller. ...