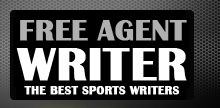 Yankee Addicts
Categories
Featured Sponsors
November 2016 Archive
November 30, 2016
Can you name the only Texas Longhorn drafted in 2016?  It's Hassan Ridgeway. If you answered correctly, you're either wearing burnt orange, or you have Google as your default browser. Either ...
November 30, 2016
Upsets are back on the table, folks. A crazy Week 12 featuring an erratic holiday slate didn't offer many. The Seattle Seahawks took a loss, but otherwise things pretty much shook ...
November 30, 2016
Welcome to Bleacher Report's NFL1000 Scouting Notebook, a weekly series where we'll use the power of the 16-man NFL1000 scouting department to bring you fresh insights into the league and ...
November 30, 2016
Two teams looking to avoid letdowns coming off big wins last week will square off in Atlanta on Sunday when the Falcons (7-4) host the Kansas City Chiefs (8-3) as ...
November 30, 2016
The Green Bay Packers (5-6) finally broke their four-game losing streak last week and will try to make it two wins in a row when they host the struggling Houston ...
November 30, 2016
You did excessive extensive amounts of research over the summer. You trusted your gut at the draft, for better or worse. You've made key trades and pickups along the way. Everything ...
November 30, 2016
Many NFL fantasy leagues begin their playoffs in Week 13 or 14, and if you clicked on this article, chances are you are just starting yours (congratulations!) or are making ...
November 30, 2016
When setting your fantasy football lineups this late in the NFL season, take your time with the decisions. I know you're excited about must-win games, but I'm baffled when I ...
November 30, 2016
What is the definition of a blowout? There's no universal answer, and it's probably safe to say blowouts exist only in the eye of the beholder. But most of us ...
November 30, 2016
Week 13 of the fantasy football season is upon us, and it's time to start putting together the groundwork for our DFS lineups. After games and as the week goes on, ...