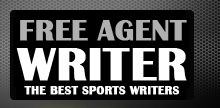 Yankee Addicts
Categories
Featured Sponsors
April 2014 Archive
April 30, 2014
The 2014 NFL draft doesn't begin until May 8. That's two full weeks later than past drafts, as the event typically occurs during the last weekend of April. That's also ...
April 30, 2014
For years, it was the defense that carried the Pittsburgh Steelers throughout the season, but as many of the top impact defenders have aged and moved on, it is the ...
April 30, 2014
The release of the 2014 NFL schedule on Wednesday marks the dawn of a new league year. As usual, the Bucs are chiefly relegated to Sunday afternoons. That doesn't mean the ...
April 30, 2014
With the 2014 NFL draft just about a week away, it's time to take a serious look at the first round. The re-signing of Anthony Spencer gives owner Jerry Jones ...
April 30, 2014
The Denver Broncos are in a solid position, but they still need a decent draft to help close the gap between them and the reigning champion Seattle Seahawks. That means Denver ...
April 29, 2014
The St. Louis Rams are just one short week away from being on the clock. And when the newest members of the team are selected, the starting lineup will be ...
April 29, 2014
While anybody can put together a mock of the 2014 NFL draft, few have the gravitas of ESPN's guru Mel Kiper Jr. Kiper is one of the biggest names in draft ...
April 29, 2014
When the Dallas Cowboys are on the clock on May 8, they hope to choose a player who can provide an immediate impact from the moment he steps on the ...
April 29, 2014
It wasn't that long ago that Louisville quarterback Teddy Bridgewater was the favorite to be selected first overall in the 2014 NFL draft. Back in February, the NFL Network's Mike Mayock ...
April 29, 2014
Chip Kelly can't really win here, but something tells me the second-year Philadelphia Eagles coach doesn't care about the court of public opinion.  Speaking to the media Monday for the first ...