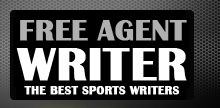 Yankee Addicts
Categories
Featured Sponsors
September 2014 Archive
September 30, 2014
After a disappointing strikeout to the NFC North, the New York Jets (1-3) begin the second quarter of the season against the San Diego Chargers (3-1) amid another tough three-game ...
September 30, 2014
Sheer talent eventually sees a player to the top of his positional depth chart at the NFL level, which is what fantasy owners continue to slowly get with Kansas City ...
September 30, 2014
The overarching theme of Brandon Marshall's 2014 season has been silence. Silence after games with reporters. Silence with his quarterback. And, more importantly, silence on the field. Marshall, who is still ...
September 30, 2014
Perpetual controversy surrounds the Washington Redskins team name. Since nothing has ultimately changed despite the widespread perception that the nickname is offensive toward Native Americans, the Federal Communications Commission may ...
September 30, 2014
Not for the first time, Andrew Luck has done something unique. The Indianapolis Colts' starting quarterback is the only player in NFL history to throw for at least 370 yards, complete ...
September 30, 2014
In Week 1 of the 2014 NFL season, the New York Giants suffered a 35-14 blowout loss to the Detroit Lions, a game that saw the Giants' "improved" offensive line ...
September 30, 2014
Concerns of a backfield by committee in Tampa Bay were quelled in Week 4, as Doug Martin returned from his knee injury and out-touched Bobby Rainey, 16-5. But the good news ...
September 30, 2014
The Cincinnati Bengals were arguably one of the NFL's best teams through three weeks this season, and after a bye in Week 4, they get a big boost on the ...
September 30, 2014
Fantasy owners had to be thrilled with Houston Texans Pro Bowl running back Arian Foster through the first two games of the 2014 NFL season. However, a heavy workload and ...
September 30, 2014
Doug Marrone and the Buffalo Bills decided to bench E.J. Manuel for backup Kyle Orton. With four weeks down in the NFL season, the Bills are already making changes to better ...