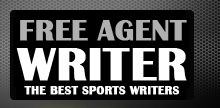 Yankee Addicts
Categories
Featured Sponsors
September 2015 Archive
September 30, 2015
The San Francisco 49ers own the upper hand in the recent rivalry with the Green Bay Packers—and yes, we can call it a rivalry—with four straight victories and three covers. ...
September 30, 2015
The Philadelphia Eagles desperately needed a win on Sunday, and they got one. Ugly or not, that's all that matters, and as a result, the team's stock should once again ...
September 30, 2015
The NFL followed a turbulent Week 2 with a mundane Week 3 devoid of upsets. Perhaps the level of unpredictability remains the most predictable element of the upcoming weekend. One week, ...
September 30, 2015
Las Vegas has once again protected itself by updating Super Bowl odds heading into Week 4. For those bettors with enough foresight, though, the lines worth a look and the ones ...
September 30, 2015
Joseph Patterson was found guilty Tuesday of second-degree murder, first-degree manslaughter and aggravated battery in the October 2013 death of Minnesota Vikings running back Adrian Peterson's son. According to Megan Raposa ...
September 30, 2015
The NFL season has started to take shape. We are three weeks in, and stories are being written. The New England Patriots are playing as if they would like to mimic ...
September 30, 2015
Former NFL wide receiver Plaxico Burress stated Monday that he thinks the league's current helmets are actually having a negative effect in terms of the number of concussions players suffer. Jay ...
September 30, 2015
New Orleans Saints quarterback Drew Brees' current health and long-term future with the team may be in question, but that didn't stop the organization from restructuring the future Hall of ...
September 30, 2015
The Arizona Cardinals own a three-game winning streak in the series with the division rival St. Louis Rams and have covered the spread in the last four meetings. The Cardinals hope ...
September 30, 2015
The Washington Redskins will be playing their second straight game against an NFC East opponent Sunday when they host the Philadelphia Eagles as home underdogs. The Redskins are coming off ...