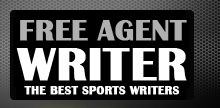 Yankee Addicts
Categories
Featured Sponsors
June 2014 Archive
June 28, 2014
The comparison was made by one of the few people qualified to make such a bold claim.  Khiry Robinson as the next Curtis Martin.  Long time NFL coach and executive Bill Parcells, ...
June 28, 2014
A strong case could be made that the talent level currently in the National Football League is at an all-time high. Quarterbacks Peyton Manning and Tom Brady are re-writing the ...
June 28, 2014
Over the past few years, many players have come and gone for the Miami Dolphins, but Brian Hartline has consistently been their most reliable player.  Even though his career is ...
June 28, 2014
Celebrities reading mean tweets about themselves has become quite popular thanks to Jimmy Kimmel, and now some sports teams are even getting in on the action.A few players from the ...
June 28, 2014
The New York Jets made a lot of moves, both good and bad, this offseason in an attempt to improve upon the team's 8-8 mark from a year ago.  John Idzik ...
June 28, 2014
A bevy of smart player acquisitions and two strong coaching hires has set up the NFC North for a bounce-back season in 2014. The division should re-assume its place among the ...
June 28, 2014
The Pittsburgh Steelers' run game was the weakest aspect of their offense last year. They ranked 25th in rushing attempts, with 394 on the season, tied for 27th in rushing ...
June 28, 2014
The Dallas Cowboys have been one of the NFL's busiest teams this offseason, making headlines on several occasions. Longtime starters were let go, more than a few promising rookies were drafted ...
June 28, 2014
Things are about to get really interesting around the National Football League. Right now, players are on their last extended break of the year. When next they gather, it will be ...
June 28, 2014
We are quickly approaching the final stages of the 2014 NFL offseason with training camps right around the corner.  As each franchise spends the next couple of months trying to determine ...