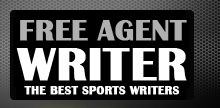 Yankee Addicts
Categories
Featured Sponsors
May 2016 Archive
May 31, 2016
Denver Broncos wide receiver Cody Latimer was arrested Monday for failing to pay a traffic ticket after he was allegedly the victim of a domestic violence incident that brought the ...
May 31, 2016
It would be hard for the Carolina Panthers to do better next season than their 15-1 mark in 2015, though the return of star wide receiver Kelvin Benjamin will help ...
May 31, 2016
The New England Patriots' draft class, heavy on backups and prospects with future potential, may not contribute much in 2016.  That being said, their draft class could be thrust into a ...
May 31, 2016
Safety Walter Thurmond announced his retirement from the NFL on Tuesday, confirming the news to Les Bowen of Philly.com. "That is official," Thurmond told Bowen. ESPN's Adam Schefter and NFL Network's Rand Getlin first ...
May 31, 2016
The NFL is moving the Pro Bowl from Honolulu to Orlando, Florida, the NFL announced on Wednesday. Roger Goodell noted his excitement for the change in the league's official release: We are ...
May 31, 2016
Terrelle Pryor is still trying to make it in the NFL. After several years of trying to accomplish the goal as a quarterback, the former Ohio State Buckeyes star is ...
May 31, 2016
In the NFL, it's always preferable to be the cat being copied and not the copycat. Run-pass options—or RPOs—are the next step for coaches looking to gain an edge. They've ...
May 31, 2016
It's easy to focus on Day 1 and Day 2 NFL draft picks in terms of impact. When you read draft grades or draft reviews on individual teams, they almost ...
May 31, 2016
Losing perennial All-Pro wide receiver Calvin Johnson will force Detroit Lions quarterback Matthew Stafford to adjust on the field, but it will also force him to change his film-room tendencies. Johnson, ...
May 30, 2016
Rookie running back Ezekiel Elliott is starting to realize how much of a difference there is between the NFL and the college level. The Dallas Cowboys' No. 4 pick from this ...