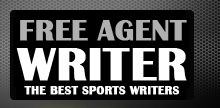 Yankee Addicts
Categories
Featured Sponsors
February 2014 Archive
February 26, 2014
Does anybody at the NFL Scouting Combine fall under the radar anymore? Probably not. But some performances, despite being incredible or at least draft-stock elevating, still don't get the credit they ...
February 26, 2014
Following the combine, Johnny Manziel's NFL draft stock is in a downward spiral—said no one in the world except Ron Jaworski.  Speaking to Mike Missanelli on 97.5 The Fanatic, the ESPN ...
February 26, 2014
The Philadelphia Eagles surprised the NFL with a tremendous season in their first year under Chip Kelly, winning 10 games while setting franchise records in both points scored and total ...
February 26, 2014
The defensive backs took to the workout areas at Lucas Oil Stadium on Tuesday, Day 6 of the NFL Scouting Combine. The combine numbers always have to be taken with ...
February 26, 2014
College football players across the nation came to the Scouting Combine looking to showcase their skills in a variety of athletic events for both speed and strength. But for the ...
February 26, 2014
  Nebraska football fans watched the NFL combine with interest, waiting for their native sons to appear and make their mark in the speed and strength drills used to evaluate future ...
February 26, 2014
The 2014 NFL Scouting Combine is complete, and several young prospects showed the 32 organizations in the league some of what they can do. John Elway and his staff were in ...
February 26, 2014
Every NFL draft tends to have a theme. Last season, it was the year of the offensive lineman. In 2014, the throne goes to the receivers and defensive backs. Luckily for ...
February 26, 2014
Former South Carolina defensive end Jadeveon Clowney is among the most exciting, polarizing defensive prospects in recent NFL draft history. Despite his status as a wild card who could either ...
February 26, 2014
After another year of struggling at the wide receiver position, it's time for the Kansas City Chiefs to address this issue head on during the offseason. Eagles wideout Jeremy Maclin could ...