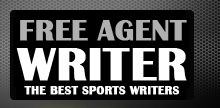 Yankee Addicts
Categories
Featured Sponsors
July 2013 Archive
July 31, 2013
Day 5 of Arizona Cardinals training camp was chock-full of solid defensive plays. Or, depending on how you look at it, full of bad offensive ones. There were more negative offensive ...
July 31, 2013
The Detroit Lions' training camp is in full swing and for fans that means the regular season is just around the corner. For the Lions that means there is a ...
July 31, 2013
Last Thursday, the Chicago Bears reported to training camp at Olivet Nazarene University in Bourbonnais, IL and held their first practice last Friday. Sunday marked the beginning of padded practices ...
July 31, 2013
The Seattle Seahawks made one of the biggest moves of the offseason in acquiring Percy Harvin from the Minnesota Vikings, but it appears the versatile offensive weapon will be on ...
July 31, 2013
The Miami Dolphins fin-ished (pun intended) the 2012 season with a lowly 7-9 record. Needless to say, there was a lot wrong with that team.  So it makes sense that the ...
July 31, 2013
I find it interesting that Stevan Ridley went off the board just behind Alfred Morris in the second round of this 10-team mock draft for standard scoring leagues. While I ...
July 31, 2013
Cincinnati Bengals quarterback Andy Dalton has many reasons to be proud of his NFL career so far. He was a second-round draft pick in 2011 before becoming a Week 1 ...
July 30, 2013
At this point, with teams going hard in training camp, general managers and head coaches don't think ahead to next year's NFL offseason. Their biggest concern is preparing their team ...
July 30, 2013
Training camp has commenced in Cortland, NY. The Jets are headed full flight into a new season, featuring a whirlwind of question marks at multiple positions. The Jets' 53-man roster will ...
July 30, 2013
The Minnesota Vikings will have no shortage of positional battles at training camp this summer, but the most intense fight could be at strong safety, where three players are vying ...