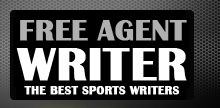 Yankee Addicts
Categories
Featured Sponsors
June 2015 Archive
June 30, 2015
The Denver Broncos added nine new players to the roster through the 2015 NFL draft. Among those selections were one of the best pass-rushers in the entire draft, two offensive ...
June 30, 2015
It's been a while since any NFL teams have forfeited a future draft pick in favor of a gamble on a player in the supplemental draft. Of course, that might ...
June 30, 2015
Cretin-Derham Hall (Saint Paul, Minnesota) High School graduate Sam Wackman wanted B-Dubs at his graduation party.Well, he got his wish—and then some.Buffalo Wild Wings surprised Wackman by showing up to his ...
June 30, 2015
We already knew that Indianapolis Colts safety Colt Anderson was a great athlete from his 81 career tackles. But no outsider could have known he possessed this much insane athleticism.The ...
June 30, 2015
The 2015 NFL supplemental draft officially has a date.    According to the NFL Network's Ian Rapoport, this year's supplemental draft will take place Thursday, July 9.  NFL.com's Henry Hodgson provided a ...
June 30, 2015
Brett Favre came out of retirement twice at the end of his career to play for the New York Jets and the Minnesota Vikings, so when he noted in a ...
June 30, 2015
Buccaneers training camp is only weeks away, and nearly half the roster will be gone before September. For those who don't make the final 53-man cut, they will hope they ...
June 30, 2015
Unfortunately, the Philadelphia Eagles will eventually have to cut their roster down from 90 to 53 players, and there will be some difficult decisions when the time comes in September. The ...
June 30, 2015
Fred Smoot, who spent nine seasons in the NFL as a cornerback for the Washington Redskins and the Minnesota Vikings, expressed some opinions Monday regarding hot-button issues in a Reddit ...
June 30, 2015
Blake Bortles has spent his offseason tinkering with everything. His mechanics. His weight. His process. Resting his overused his arm. Pretty much anything you can think of that could lead to ...