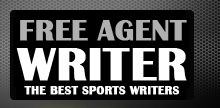 Yankee Addicts
Categories
Featured Sponsors
May 2014 Archive
May 31, 2014
Selecting Jadeveon Clowney with the first overall pick of the 2014 NFL draft not only gave the Houston Texans a generational prospect, but also gave J.J. Watt the kind of ...
May 31, 2014
With the NFLPA Rookie Premiere taking place this week in Los Angeles, some of the biggest rookies in the league were finally able to try on the uniforms they'll be ...
May 31, 2014
In the 2014 NFL draft, the Green Bay Packers selected safety Ha Ha Clinton-Dix with the 21st pick in Round 1. It was very apropos then that the Packers gave ...
May 31, 2014
A hallmark of the Pittsburgh Steelers defense under Dick LeBeau is the role the inside linebackers play. More than just protecting the second level and containing running backs, the Steelers ...
May 31, 2014
The Buffalo Bills drafted EJ Manuel 16th overall to be the franchise quarterback. A review of his rookie season shows that while he possesses some of the necessary tools to ...
May 31, 2014
The NFL's copycat tendencies might be on the verge of its newest chapter, with some teams now chasing an offensive trend recently originated by the Chicago Bears.  But like most pursuits ...
May 31, 2014
If you need proof that defense wins championships, look no further than Super Bowl XLVIII (48) almost four months ago when the Seattle Seahawks dismantled the Denver Broncos, and one ...
May 31, 2014
Cornellius "Tank" Carradine was selected by the San Francisco 49ers with the 40th overall pick in the 2013 draft. He was a first-round talent that slipped to the second round, ...
May 31, 2014
Philadelphia Eagles fans have every reason to be extremely excited for the 2014 campaign. Not only was the offense efficient in year one of Chip Kelly's hurry-up offense, it was ...
May 31, 2014
Unfortunately, NFL injuries have no offseason, and it looks like 2014 will be no exception. Late-season injuries from last year continue to limit many players, and new injuries are popping up ...