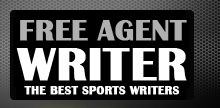 Yankee Addicts
Categories
Featured Sponsors
October 2011 Archive
October 30, 2011
The 2000 Ravens were not your typical Super Bowl championship team. They did not have a Peyton Manning or Drew Brees. Instead they had Trent Dilfer, the former first round ...
October 30, 2011
Week 8 Matchup:  Dallas Cowboys (3-3) at Philadelphia Eagles (2-4) Rankings based on top 26 QBs, 50 RBs, 75 WRs and 30 TEs CLICK HERE FOR ALL OTHER GAMES Dallas CowboysOpponent ...
October 30, 2011
Grandpa Joe is not in a good mood. He got busted trying to get into the New York Jets game last Sunday with a ticket that he designed and printed ...
October 30, 2011
There are quite a few teams that have matchups in Week 8 of the 2011 NFL season that are extreme favorites for a big win.Every now and then, it's okay to ...
October 30, 2011
After a week filled with close, low-scoring finishes, some teams will be able to build on their momentum and pull out another win on Sunday. This trio, however, will come ...
October 30, 2011
With so many high-powered offenses currently in the NFL, most games usually seem to feature a fair amount of points. Defense certainly isn't dead, however, and neither are inept offenses. ...
October 30, 2011
JaMarcus Russell was recently interviewed by a "CSN" drone about his experience in the NFL with the Oakland Raiders. In this interview he did not rule out a possible return ...
October 30, 2011
It's Week 8 in the NFL and the same goes in this week that goes in every week. There are just teams out there that have no shot of winning ...
October 29, 2011
Some struggling NFL teams have the talent to turn things around in any given week, as the Chiefs did after their awful start. Then, there are these clubs:   St. ...
October 29, 2011
For the last few years, the only thing the Georgia Bulldogs felt when they came down to Jacksonville to face the Florida Gators was the boot on their behind when ...