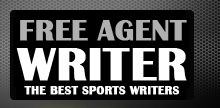 Yankee Addicts
Categories
Featured Sponsors
May 2011 Archive
May 29, 2011
Kirk Morrison is in Oakland, waiting for his opportunity. As he trains in the offseason during the NFL lockout, the Jaguars linebacker can't wait to get back on the field. ...
May 29, 2011
As a fan of a small-market team, I get used to below-the-belt jabs from fans of big city teams. But when the ignorance extends to reporters of major media outlets, ...
May 21, 2011
Do I even have to say Donovan McNabb isn't going to be back in Washington next season?At this point, it's a lot like saying "water is wet." It's such a ...
May 21, 2011
Recently word has spread about the four day (Tuesday-Friday) Oakland Raiders camp sponsored by defensive tackle Richard Seymour, who sent out an invitations to all the Oakland Raider players in ...
May 21, 2011
One of the biggest names that may or may not be available once the NFL lockout is lifted is Carson Palmer. He has threatened to retire. Cincinnati owner Mike Brown ...
May 21, 2011
Sure, the Jets have won only one Super Bowl in their history, and no, us Jets fans don't need any reminding of that. But even with all the championship-less years, ...
May 21, 2011
Erik Coleman was drafted in the fifth round of the 2004 NFL draft by the New York Jets. Coleman started every game for the Jets over the next three seasons, ...
May 21, 2011
As we know, the Green Bay Packers overcame many issues that occurred both late in the season and early in the season to win the Super Bowl.They didn't do it ...
May 21, 2011
Three Rivers Stadium was the home to the Pittsburgh Steelers for over three decades. It was the site of the Immaculate Reception and hosted seven AFC Championship games.The Steelers were ...
May 21, 2011
Someone needs to tell Washington Redskins coach Mike Shanahan that John Elway isn't walking through that door. Shannon Sharpe isn't walking through that door. Neither is Terrell Davis. And while ...