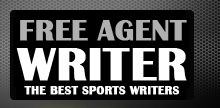 Yankee Addicts
Categories
Featured Sponsors
February 2011 Archive
February 28, 2011
The Buccaneers Have Their Eye On The Postseason With 20th Pick With Akeem Ayers, Ryan Kerrigan and Adrian Clayborn off the Board, Aldon Smith becomes the target of the Buccaneers. ...
February 28, 2011
The Giants Need To Put More Pressure on Opposing QBs, Take Ayers The Giants have two needs they could address in the first round, an offensive lineman or an outside linebacker. With ...
February 28, 2011
Can someone tell me why Da'Quan Bowers decided not to work out tomorrow?I know he had a recent surgery, but if Bowers thinks he can breeze over the combine because ...
February 28, 2011
We as fans can speculate all we want about possible free-agent signings and draft picks, but the fact of the matter is no big-money free-agent or stud rookie can fix ...
February 28, 2011
The NFL labor negotiations are being felt all around the league but may be slightly more evident around the Cleveland Browns' training facilities than in other places. In interviews held ...
February 28, 2011
For me, the best part about the month of February has never been the Super Bowl, and frankly, that is because the Detroit Lions have never been a part of ...
February 28, 2011
How does the prospect of Bryant McFadden and Keenan Lewis starting for the Pittsburgh Steelers defense sound? If that doesn't make you break out into a cold sweat, I don't ...
February 28, 2011
The hottest name in the NFL offseason hasn't been Tom Brady, Aaron Rodgers, or even Cam Newton. No, the biggest name circling several NFL teams as the draft approaches is ...
February 28, 2011
Inside Linebackers are generally the captains and leaders for the defense on NFL teams.They are typically a team's best tackler, are relied on heavily to stop the run and team ...
February 28, 2011
Greetings from the Frozen Tundra, friends.  Week three of the offseason has provided limitless activities for this Wisconsin girl, none of which have resulted in any great joy.  Political unrest still ...