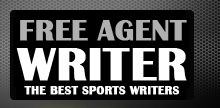 Yankee Addicts
Categories
Featured Sponsors
December 2013 Archive
December 31, 2013
Just over one year after former Kansas City Chiefs linebacker Jovan Belcher murdered girlfriend Kasandra Perkins and ultimately took his own life, his mother has filed a wrongful-death lawsuit against the Chiefs organization on Dec. ...
December 31, 2013
The Indianapolis Colts enter the playoffs as one of the hotter teams in the NFL, winners of three straight games in convincing fashion. One of those victories came in Week 16 ...
December 31, 2013
The Green Bay Packers snuck into the playoffs by the skin of their teeth. Now that they're in, they pose a serious threat to any team they face. Thanks to a ...
December 31, 2013
Everyone knows the old adage "you play until the whistle blows," but "you don't start celebrating until the game is over" should also be added to that.  This Pittsburgh Steelers fan ...
December 31, 2013
It wasn't pretty down the stretch as the New Orleans Saints lost three of their last five games. But a Week 17 win over the Tampa Bay Buccaneers thrust the ...
December 31, 2013
The playoffs are upon us, and as exciting as "Black Monday" can be when it comes to news, rumors and the like, the teams that aren't firing their coaches have ...
December 31, 2013
The Wild Card Round of the 2013 NFL playoffs offers four intriguing matchups that should have football fans everywhere on the edge of their seats. However, hometown fans of the Cincinnati ...
December 31, 2013
First, a disclaimer: We are a long, long way from the 2014 NFL Draft. With the NFL moving the draft back to May in 2014, in fact, scouts, general managers and ...
December 31, 2013
Dallas Cowboys owner Jerry Jones went to bat for Jason Garrett time and time again during the 2013 season and did so once again following the Week 17 loss to ...
December 31, 2013
When a team collapses as egregiously as the 2013 Detroit Lions, there is a search for answers to some difficult questions. Any time a team crashes from a 6-3 start ...