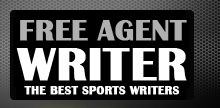 Yankee Addicts
Categories
Featured Sponsors
November 2014 Archive
November 30, 2014
It would be an understatement to say that initial expectations for the 2014 Cleveland Browns were low. In fact, preseason poll of ESPN writers predicted that Cleveland would win just one ...
November 30, 2014
It has been a rough season for Jim Harbaugh and the San Francisco 49ers.  Way back on September 7, the day of the 49ers' first game, NFL.com's Ian Rapoport reported ...
November 30, 2014
The New Orleans Saints are currently facing a disheartening reality: The team has just lost three consecutive home games. For a franchise that has recently thrived on home-field advantage, this isn't ...
November 29, 2014
Week 13 of the NFL season got an early start with three games on Thanksgiving. That forced fantasy owners to set their starting lineups earlier than normal, though there's still ...
November 29, 2014
In the first quarter of the Saints home loss on Monday Night Football to the Ravens, wide receiver Joe Morgan had a 60-yard rush and 60-yard reception in the same ...
November 29, 2014
The Atlanta Falcons and Arizona Cardinals take each other on in a matchup between division leaders. Arizona brings its 9-2 record into the Georgia Dome to face an Atlanta team ...
November 29, 2014
The Oakland Raiders will be weaker in the secondary the rest of this season. Cornerback Carlos Rogers will reportedly miss the final five games with a knee injury.  According to Fallon ...
November 29, 2014
If the Thanksgiving Day NFL games were any indication, Week 13 is one to avoid. A pair of favorites, Detroit and Seattle, took home gaudy victories, while the favorite most probably ...
November 29, 2014
Week 13 is well underway due to Thanksgiving, but the trio of holiday games did not reveal much to owners.  Some stars predictably lit the world on fire. Calvin Johnson scored ...
November 29, 2014
Week 13 marks the final matchup of the regular season for most fantasy football leagues. Playoff berths will be earned or lost based on the results of this week. Of ...