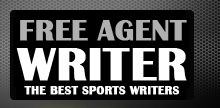 Yankee Addicts
Categories
Featured Sponsors
August 2011 Archive
August 21, 2011
Kyle Orton was impressive during his time on the field for the Denver Broncos in their 24-10 win over the Buffalo Bills in the second preseason game. He finished the night ...
August 21, 2011
While the final score is irrelevant, the score at halftime isn't.  Most of the starters were in for the first 30 minutes, making the Vikings 13-0 lead at halftime a ...
August 21, 2011
The Rams left a lot to be desired tonight, while the Titans just (very slightly) strengthened their leverage in the negotiations with running back Chris Johnson, who is holding out ...
August 21, 2011
Final Score: Houston 27 - New Orleans 14The Saints played like they wanted to win the game, the Texans played better. Houston is looking to regain itself and to find its ...
August 21, 2011
Well, this is what we've all been waiting for in this second preseason between the Bills and the Broncos. Tim Tebow time. He can't make a huge stride playing with the third ...
August 21, 2011
It's a career that almost never happened.After going undrafted in the 1998 NFL Draft (in which the Colts selected Peyton Manning with the No. 1 overall pick), Jeff Saturday signed ...
August 21, 2011
Much has been made this shortened offseason about whether or not Tim Tebow would unseat Kyle Orton as the Denver Broncos starting quarterback. Brady Quinn, the signal caller in the shadows, ...
August 21, 2011
It has been apparent, perhaps throughout the game, that the Texans have depth on their defense. Coming off a poor season last year this team is a vast improvement. They ...
August 21, 2011
The Cincinnati Bengals (0-1) and New York Jets (0-1) are set to square off in Week 2 of the 2011 NFL preseason Sunday night inside New Meadowlands Stadium. Both teams ...
August 21, 2011
The greatest defensive tackle in Lions history had a nose for the quarterback. He had to, because he couldn't see the passer. Alex Karras, the Golden Greek (aka Tippy Toes), ...