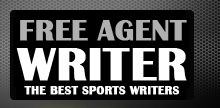 Yankee Addicts
Categories
Featured Sponsors
December 2012 Archive
December 30, 2012
If a lower-seeded NFL playoff team is to win the Super Bowl, it's imperative that it builds some much-needed momentum.The Denver Broncos, Atlanta Falcons and New England Patriots will be ...
December 30, 2012
The Dallas Cowboys never quite figured out how to use Martellus Bennett correctly. Ironically, and not surprisingly, he is enjoying his best season as part of the Giants offense. The Cowboys ...
December 30, 2012
The 2012 Buffalo Wild Wings Bowl features the TCU Horned Frogs against the Michigan State Spartans. While both of these teams are two of the lesser known squads in college ...
December 30, 2012
Even though it's only been 16 weeks, it seems like a lifetime ago when the New York Jets beat the Buffalo Bills 48-28 on opening day.Mark Sanchez was slinging the ...
December 30, 2012
Steven Jackson might miss out on a good thing: the St. Louis Rams' 2013 campaign. The 29-year-old running back suggested that he might retire at the end of the 2012 ...
December 30, 2012
Besides a Super Bowl loss, the New England Patriots have had a great year of 2012. Like every other year, the Patriots seemingly did one thing and one thing only: ...
December 30, 2012
Ted Thompson replaced Mike Sherman as General Manager of the Green Bay Packers after the end of the 2004 season. Eight years later, Thompson is now one of the most ...
December 30, 2012
The Atlanta Falcons will try to wrap up an undefeated home record for the season as they host the 6-9 Tampa Bay Buccaneers Sunday in the Georgia Dome.Atlanta (13-2) clinched ...
December 30, 2012
This has been an incredible year for rookies—especially at the quarterback position. In Week 17, some of those same rookies will make a major impact in the playoff race during ...
December 30, 2012
The 2012 NFL regular season is coming to a close, so it is time to take a look back and reflect on the year. Rookies have played a big part for ...