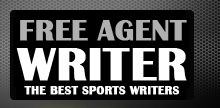 Yankee Addicts
Categories
Featured Sponsors
August 2012 Archive
August 29, 2012
The Dallas Cowboys will wrap up the 2012 training camp and preseason with a contest against the Miami Dolphins. The Cowboys, like most teams, will be looking to tie up ...
August 29, 2012
The quarterback situation in Arizona obviously and understandably has many Cards fans nervous about the upcoming season. The simple question is, can the Arizona Cardinals win with John Skelton or ...
August 29, 2012
As the NFL's final week of preseason matchups bears down upon us, I'm here to tell you that you can't miss it. Seriously, you can't.Don't give me that look.I know ...
August 29, 2012
The National Football League has proven to be more than just a sport, but also a billion dollar industry that continues to grow during each football season.There are many football ...
August 29, 2012
Mark Sanchez will make or break this next season. This, while not bold, is definitely a prediction I would take to the bank, as well as these three others:1. Mark ...
August 29, 2012
HBO's production crew has managed to find new ways to bring us something we haven't seen before, so that even when we know what's coming, there are still plenty of ...
August 29, 2012
HBO's Hard Knocks gives NFL fans a window into parts of the league that would otherwise remain a mystery, and Tuesday night's episode offered viewers a captivating depiction of Vontae ...
August 29, 2012
The Miami Dolphins have a lot of work to do if they don't want to be terrible this season. Watching them stumble, get yelled at and lose on the third ...
August 29, 2012
D'Qwell Jackson started off 2012 with a contract extension that made him one of the highest paid linebackers in the NFL. Next up, his fellow players voted him onto the ...
August 29, 2012
Jack Bartosz and Aaron Rodgers were friends. Jack died Monday after suffering for many years from neuroblastoma.He was first diagnosed in September 2005, enduring seven years of doctoring and treatments with little ...