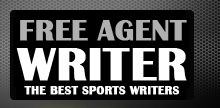 Yankee Addicts
Categories
Featured Sponsors
March 2010 Archive
March 31, 2010
Donovan McNabb is perhaps the most undervalued quarterback in NFL today. His services in Philadelphia are not appreciated, and it is sad to see such a great NFL quarterback face ...
March 31, 2010
The past two off-seasons have seen an undeniable change toward the future of Philadelphia's roster. It began last season with the release of long-time starting tackle tandem Tra Thomas and ...
March 31, 2010
Alright B/R fans you asked for it so here it is, round two of our Fans Draft. Round one was a success and we'll expect nothing less this time around. Hopefully ...
March 31, 2010
The Buffalo Bills know that they are thin at the wide receiver position . The decision not to resign Terrell Owens and Josh Reed have forced the Bills to find replacements. In ...
March 31, 2010
In the words of Alfred Pennyworth , "Why do we fall, sir? So that we might better learn to pick ourselves up." It seems a perfect metaphor ...
March 31, 2010
The Buffalo Bills added some depth and competition to their wide receiver corps on Wednesday by signing free agent Chad Jackson to an offer. Chad Jackson is now another young ...
March 31, 2010
Jimmy Clausen is one of the more polarizing prospects I've seen in awhile. He could find himself landing anywhere in the top 10; the Rams, Redskins, Seahawks, Browns, Raiders, Bills, or ...
March 31, 2010
The 2010 NFL Draft is less than a month away and players are finally beginning to solidify their positions in the draft.  In the fourth version of my 2010 NFL Mock ...
March 31, 2010
I never like doing multiple mock drafts. I like to make one, and then be done with it. I think free agency has calmed down enough that I can make ...
March 31, 2010
The Oakland Raiders' Bleacher Report team page is more than a place of "fussing and fighting" over who is the best player, coach or team. It is also about educating young ...