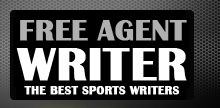 Yankee Addicts
Categories
Featured Sponsors
September 2012 Archive
September 30, 2012
A couple of wide receivers for the Baltimore Ravens had exceptional games on Thursday night in Week 4 of the 2012 NFL season. Torrey Smith caught six passes for 97 ...
September 30, 2012
The Houston Texans return to the friendly confines of Reliant Stadium to meet the Tennessee Titans. The history of these AFC South division rivals predates the entry of the Texans ...
September 30, 2012
The Dallas Cowboys are set for a Monday night showdown against the Chicago Bears.  The Cowboys need this game heading into their bye week after two straight shaky performances that ...
September 30, 2012
Not one San Diego Charger had a good game last week against the Atlanta Falcons, let alone an average one. Ryan Mathews made his 2012 debut and started rolling early, ...
September 30, 2012
"Two people are better than one, because they can reap more benefit from their labor." Ecclesiastes 4:9 I'm usually not one to mix football and religion. I'll leave that up to Tim ...
September 30, 2012
The Carolina Panthers and Atlanta Falcons are set to face off at 1 p.m ET in a matchup that will feature two explosive quarterbacks, Cam Newton and Matt Ryan.We will ...
September 30, 2012
Andy Reid is going to need some new tricks to lead the Philadelphia Eagles over the New York Giants in Week 4.  Here are some possible surprises that Reid might throw ...
September 30, 2012
Power rankings in the NFL are sometimes biased towards teams who have been successful in the past or who have a high profile despite their current situation. Teams like the ...
September 30, 2012
Most fantasy football leagues end their season with the championship in Week 16. That means, more than 20 percent (49 games) of the 240 regular-season games from Weeks 1 ...
September 30, 2012
After three long weeks of inactivity, Jerome Simpson returns to the field Sunday to make his debut with the Minnesota Vikings. Get excited, Vikings fans. Minnesota's No. 1 downfield option ...