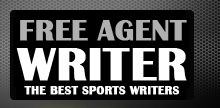 Yankee Addicts
Categories
Featured Sponsors
July 2014 Archive
July 30, 2014
The Arizona Cardinals have reached an agreement with cornerback Patrick Peterson on a long-term contract extension.  Peterson himself broke the news on Twitter with the contract details:  The team confirmed the news ...
July 30, 2014
For guys like Ben Roethlisberger and Troy Polamalu, training camp is nothing more than a job requirement at this point. Hell, for guys like Tony Gonzalez, it was optional. For others, ...
July 30, 2014
It's about time. Per Ian Rapoport of NFL Network, the Green Bay Packers extended top wide receiver Jordy Nelson for four years and $39 million, with $14.2 million guaranteed. Nelson is ...
July 30, 2014
Third-round draft pick Terrance West is making a legitimate push in training camp to win the Cleveland Browns' starting nod over veteran free-agent acquisition Ben Tate. Brian Dulik of The Medina-Gazette provides comments ...
July 30, 2014
In Larry Fitzgerald and Michael Floyd, the Arizona Cardinals already have arguably one of the best duos at wide receiver in the NFL. Fitzgerald is an eight-time Pro Bowler. Floyd ...
July 30, 2014
NFL football is back, and for this year's collection of rookie head coaches, the next few weeks could not be any more important.  We've got first-year head coaches in Cleveland (Mike ...
July 30, 2014
The one thing every NFL team and player wants to avoid in training camp in late July is injuries, and DeMarcus Lawrence and the Dallas Cowboys were unable to do ...
July 30, 2014
Whenever a team has as much talent as the Denver Broncos do, trimming the roster to 53 players is no easy task.  The Broncos are overflowing with talent on both sides ...
July 30, 2014
Buffalo Bills training camp is in full swing, and the one player people can't stop talking about is rookie wide receiver Sammy Watkins. Monday Morning Quarterback's Peter King left St. ...
July 30, 2014
In 2013, rookies were all the rage in fantasy football. By the end of the season, players such as Eddie Lacy, Zac Stacy, Keenan Allen and Cordarrelle Patterson all became ...