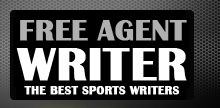 Yankee Addicts
Categories
Featured Sponsors
April 2010 Archive
April 30, 2010
This team is represented by the best players to ever put on a Pittsburgh Steelers uniform. The players I have selected to this team are Hall-of-Famers and soon-to-be Hall-of-Famers. This team could ...
April 30, 2010
You know those links on the side of the team pages from around the web?  I never read them. Funny thing is, some of them are actually pretty good. Here are some interesting ...
April 30, 2010
With football season on the horizon and the 2010 NFL draft fading into the past, a new crop of players will be playing their hearts out in the NCAA to ...
April 30, 2010
With the 22nd pick in the NFL Draft, the Cleveland Browns select from the University of Notre Dame, Brady Quinn. That moment was a day of hope for the Browns, Quinn, ...
April 30, 2010
Intensity 1: The quality or state of being intense; especially : extreme degree of strength, force, energy, or feeling 2: The magnitude of a quantity (as force or energy) per unit (as ...
April 30, 2010
Due to recent reports suggesting Brett Favre would be making his decision on whether or not to return to football in 2010 based on his injured ankle, the future Hall ...
April 30, 2010
A week before the draft, coach Pete Carroll said the Seahawks' roster did not have much depth or competition among positions, particularly in the secondary and on both lines. ...
April 30, 2010
We all know that center Maurkice Pouncey was drafted to eventually take over as the next starting center for the Pittsburgh Steelers. We also assume that he will either start ...
April 30, 2010
DE Mark Anderson signed his one-year tender with the Bears today. They gave him a second round tender, meaning he will make about $1.75 million this season. The ...
April 30, 2010
Recent reports, which state that Brett Favre 's decision to return to playing football will weigh heavily on a still bruised and swollen ankle, have Minnesota Vikings fans and ESPN ...