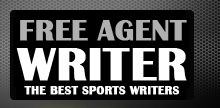 Yankee Addicts
Categories
Featured Sponsors
August 2013 Archive
August 31, 2013
The Cowboys have long been known as a team with an abundance of talent that has been incapable of capitalizing on it when it matters most. One could argue that the ...
August 31, 2013
The San Francisco 49ers released wide receiver Austin Collie on Saturday while whittling the roster down to 53 players—a move that highlights the team's underrated receiving corps. Matt Barrows of The ...
August 31, 2013
As teams trim their rosters to 53 players, cuts mostly consist of fringe guys struggling to make a squad. However, a few notable moves will affect fantasy football leagues across ...
August 31, 2013
Antoine Winfield has informed the Seattle Seahawks that he is going to retire, according to Fox Sports' Jay Glazer: Pete Carroll took to Twitter following Winfield's decision: Jason La Canfora of CBS Sports previously ...
August 31, 2013
The key to winning your fantasy football league is by drafting some key sleepers that break out and have huge seasons, and there are a few guys that could do ...
August 31, 2013
Despite the uncertainty in the San Diego Chargers' wide receiving corps, Robert Meachem wasn't able to carve himself out a spot on the 53-man roster. U-T San Diego's Michael Gehlken reported ...
August 31, 2013
Every season, hundreds of dreams are dashed on cut day when NFL teams trim their rosters from 75 to 53. This year, the New England Patriots surprised many when they released veteran punter ...
August 31, 2013
The Pittsburgh Steelers announced the release of running back Jonathan Dwyer on Saturday. He started six games in 2012, running for 623 yards and two touchdowns. The Steelers announced the decision ...
August 31, 2013
As the beginning of the NFL season approaches, so too is the fantasy football season. Everybody has their go-to players on draft day, but let's take a look at some ...
August 31, 2013
Preparing for a fantasy football draft is key to success. Zooming through expert opinions, numerous magazines and tuning into television analysis can be helpful, but having a proper strategy while ...