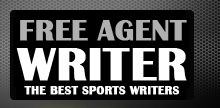 Yankee Addicts
Categories
Featured Sponsors
December 2010 Archive
December 31, 2010
Currently in his ninth season, Jaguars quarterback David Garrard has been one of the most inconsistent quarterbacks in the league. However, one thing he has done consistently is not lead ...
December 31, 2010
Week 17 in the NFL is often defined for contenders wrapping up the final playoff spots, a last hurrah for teams still in the hunt, diehard fans tasting the last drop ...
December 31, 2010
The Seahawks play their biggest game of the year on Sunday night, and it's not because the NFC West is on the line. Seattle's future as a competitive NFL team is ...
December 31, 2010
In the words of Jim Morrison, "This is the end."That's right, the end to the 2010 NFL regular season is upon us. With just one game left for each team, ...
December 31, 2010
The final week of the season for non-playoff teams is upon us, and that means players being placed on injured reserve with minor injuries simply because they won't ...
December 31, 2010
This is just a quick thought for all of you Redskins fans out there to mull over as you celebrate the New Year, wherever you might be.ProFootballTalk suggests that Redskins ...
December 31, 2010
After reading and listening to everyone complaining about all the Pro Bowl snubs, I started thinking. What is one way we can get more high caliber players onto a roster ...
December 31, 2010
Brett Favre is always in the news these days.  Will he retire, will he play, has he sexted and does he even know what sexting is? After this weekend the Vikings ...
December 31, 2010
For those of you who got knocked out of the playoffs in multiple fantasy football leagues this season like I did, it's never too early to start planning what you ...
December 31, 2010
As the season wore on, it has looked more and more like the New England Patriots really are the one dominant team in the NFL this season.  They worked ...