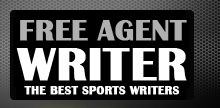 Yankee Addicts
Categories
Featured Sponsors
March 2012 Archive
March 28, 2012
Peyton Manning is a Denver Bronco. Mario Williams is in Buffalo, Tim Tebow is a New York Jet, and Sean Payton is suspended for the upcoming season.Yes, it certainly has ...
March 28, 2012
Many people were eagerly anticipating the arrival of Tim Tebow on Monday. In fact, there were so many of the New York media present, they needed to go into the ...
March 28, 2012
After a slow start in free agency this year, the Kansas City Chiefs have put together a solid group of free agents, including several players who should make an impact ...
March 28, 2012
Tim Tebow has a habit of using particular words and phrases over and over again at every single one of his press conferences.  Why do hundreds of people need to be at ...
March 28, 2012
There are still some quality players to be had in free agency if anyone is interested. You would swear by the silence lately that the NFL has stopped looking at players, ...
March 25, 2012
The Dallas Cowboys were able to fill a variety of needs so far in free agency. Unfortunately, the defensive line was not one of them. A lot of fans were figuring this ...
March 25, 2012
Fox Sports is reportedly considering hiring suspended New Orleans Saints head coach Sean Payton to become a part of their crew during next season, and it is sure to be ...
March 25, 2012
Days after watching the NFL come down hard on its upper management and coaching staff, the New Orleans Saints have signed a safeguard at middle linebacker in case the league ...
March 25, 2012
Every NFL draft is the same. We huddle around the TV screen like ice fishermen near a fire, as if our very lives depended on it.  Waiting for picks to be made; ...
March 25, 2012
If your head is still spinning from the New England Patriots' busy free agent spree, don't expect a break anytime soon.History tells us that the wheeling and dealing in Foxboro ...