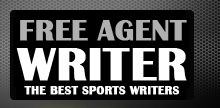 Yankee Addicts
Categories
Featured Sponsors
April 2012 Archive
April 29, 2012
We already took a look at the Falcons' opening pick as well as their day-two selection, and now it's time to see who Atlanta took on the last day of ...
April 29, 2012
The Detroit Lions have already made a big signing in the "undrafted free agency" by reportedly picking up Boise State star quarterback Kellen Moore. While he is not going to ...
April 29, 2012
In the 2012 NFL draft, the Washington Redskins selected Robert Griffin out of Baylor with the second pick of the draft. Two-hundred-and-one picks later, the New York Jets selected ...
April 29, 2012
The Washington Redskins have reportedly signed Hawaii nose tackle Vaughn Meatoga, according to Hawaiinewsnow.com. He was left undrafted, but has the size and tenacity to compete for playing time at the ...
April 29, 2012
While the first two days of the NFL draft are some of the most exciting, Day 3 isn't shabby itself.The third day features the fourth, fifth, sixth and seventh rounds. ...
April 29, 2012
Bold statement to label a seventh-rounder as the best pick of the entire draft for an organization, and keep in mind that I do not think he will be the ...
April 29, 2012
Although Chase Minnifield wasn't one of the 253 draft selections in this year's draft, he will still be a serviceable defender for the Washington Redskins.It has been reported that the ...
April 29, 2012
Just because you're not drafted in the NFL draft doesn't mean that you can't make a career for yourself at the next level. Now that the 2012 NFL draft is ...
April 29, 2012
The draft is officially complete. All 253 picks have been made, and now the players can focus on how they can help their new teams, or even make the roster ...
April 29, 2012
Reggie, Reggie, Reggie—in the immortal words of Joe Lombardi: What the hell's going on out here? Mark Davis elected you to be the President of the Raider Nation; a fanbase ...