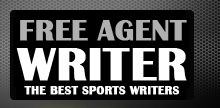 Yankee Addicts
Categories
Featured Sponsors
August 2010 Archive
August 31, 2010
Despite already being under today's new 75-man roster limit (down from the offseason limit of 80) the Miami Dolphins made two more in-house roster moves to clear too ...
August 31, 2010
It was gonna be a matter of time for the Ravens to make a play for cornerback to help bolster the injury-ridden secondary, but finally prayers have been answer. It was ...
August 31, 2010
About a week ago this time, the Matt Leinart era in Arizona began to seem bleak.He wasn't convincing to his coaches and or teammates that he can lead this team ...
August 31, 2010
Just as Minnesota Vikings rookie cornerback Chris Cook was making impressive progress in the preseason pursuit of a starting spot opposite veteran DB Antoine Winfield, a torn meniscus will sideline ...
August 31, 2010
As a Bronco fan this preseason has been pretty interesting to say the least. Not only has the most exciting draft pick since Jay Cutler set foot in Dove ...
August 31, 2010
Maybe it's my pessimistic nature as a sports fan, but I tend to spend a lot more time thinking about the weakness' of my favorite teams rather than their strengths. And although the Packers strengths ...
August 31, 2010
The history of the Buffalo Bills can be traced far back into the years of the AFL.Did you know that the first football team in Buffalo was the Buffalo Bisons?Trivia ...
August 31, 2010
The Baltimore Ravens are a team with good balance of youth and experience, and they have a lot of depth.Here's a look at some veteran players (5 years or more) ...
August 31, 2010
Lost in the mix of hypemen such as Bruce Gradkowski, Darren McFadden and Chaz Schilens is the Raiders statistically best Wide Receiver, fourth year pro Johnnie Lee Higgins. In his entire ...
August 31, 2010
After three forgettable pre-season games, the Bears have shown us nothing that should inspire us for this upcoming season. It's not about the three losses, but rather the manner in which ...