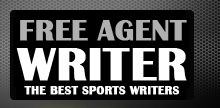 Yankee Addicts
Categories
Featured Sponsors
August 2016 Archive
August 31, 2016
Despite not bringing any of their starters, the Washington Redskins beat the Tampa Bay Buccaneers 20-13 on a rainy night in Tampa thanks to Tropical Storm Hermine. Washington left 26 players, including ...
August 31, 2016
A day after he was waived by the San Diego Chargers, third-year quarterback Zach Mettenberger was claimed Wednesday by the Pittsburgh Steelers. The team announced the move and noted Bruce Gradkowski ...
August 31, 2016
The Dallas Cowboys have provided linebacker Sean Lee with an opportunity to make more money if he can stay on the field. Brandon George of the Dallas Morning News explained the reworked ...
August 31, 2016
ESPN NFL analyst Chris Mortensen was diagnosed with Stage 4 throat cancer in January, but he recently received positive news regarding the progression of his treatment and recovery.  In a statement ...
August 31, 2016
The NFL officially cleared Green Bay Packers linebackers Clay Matthews and Julius Peppers and Pittsburgh Steelers linebacker James Harrison of any wrongdoing Wednesday after a probe into an Al-Jazeera report ...
August 31, 2016
The Arizona Cardinals will try to earn their first win of the preseason in their last outing Thursday when they host the Denver Broncos as four-point home favorites at sportsbooks ...
August 31, 2016
The Carolina Panthers agreed to a one-year contract with veteran safety Stevie Brown on Wednesday in an attempt to shore up their secondary before the regular season.  Brown's signing was announced ...
August 31, 2016
Former NFL running back Fred Taylor stated Wednesday that recent medical tests showed he suffered a series of previously unknown injuries during his career, which team doctors never revealed to ...
August 31, 2016
The Pittsburgh Steelers and star wide receiver Antonio Brown reached an agreement Wednesday on a restructured contract.  Adam Schefter of ESPN first reported the new pact. Mike Garafolo of NFL Network ...
August 31, 2016
With final roster cuts and the start of the 2016 NFL regular season approaching quickly, the trade market is heating up as teams look to make some last-minute improvements in ...