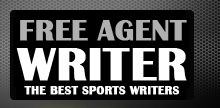 Yankee Addicts
Categories
Featured Sponsors
January 2013 Archive
January 30, 2013
In 2012, the Dallas Cowboys struggled with protecting Tony Romo from pressure up the middle due to insufficient play at the guard position. There is a possibility that current right ...
January 30, 2013
Super Bowl XLVII will be between the San Francisco 49ers and Baltimore Ravens. But beyond the game itself, there are some incredibly interesting storylines to watch during the biggest day ...
January 30, 2013
The underdog has been nasty in the Super Bowl in recent years, and Baltimore plans to bring that same snarl against the 49ers in Super Bowl XLVII.Underdogs have won five ...
January 30, 2013
When the New York Jets go free-agent shopping this offseason, new GM John Idzik will operate with a limited budget. He must avoid mistakes. He can't afford them. If the ...
January 30, 2013
Whether it be a 7-1 start that led to a 10-6 finish and missing out on the playoffs or the poor play of the offensive line, the Chicago Bears suffered ...
January 30, 2013
The Super Bowl has become a launching point for the summer movie blockbuster blitz. This year, six movies will air trailers during CBS' broadcast, and none figures to generate as ...
January 30, 2013
The biggest question mark of the season has been answered, as Jeff Lurie has finally selected a new head coach, Oregon's Chip Kelly. Another big question mark has also already ...
January 30, 2013
Here we are, headed into Puppy Bowl IX, the grand daddy of them all for puppy dogs.This year, a number of hungry puppy dogs will challenge Puppy Dog Hall of ...
January 30, 2013
Quick quiz: Which of these Patriots has the highest salary cap hit for 2013?(A) Defensive back Devin McCourty(B) Placekicker Stephen Gostkowski(C) Offensive tackle Nate Solder(D) Tight end Rob GronkowskiIf you chose ...
January 30, 2013
Even though the Minnesota Vikings are coming off their best single-season turnaround in franchise history, they need to make some improvements in order to sustain their success. Their seven-game improvement ...